For four years my full-time job was teaching teachers how to teach (say that ten times fast!). During that time, I worked with thousands of teachers during STEM educator workshops. The focus was always on how to integrate hands-on, inquiry-based lessons into the traditional classroom and what can be tweaked in classic lessons to provide more engaging opportunities for students.
What inevitably happened is as I was teaching teachers, they were really teaching me. I learned so much about how important networking and community is in education, a lesson I wouldn't have learned working outside of a formal classroom.
Using the Internet for STEM Professional Development
Every time I have hosted or attended a professional development workshop, there has been time allotted for educators to share ideas, express concerns, find answers, and compare notes. This is a crucial time in any workshop and is a great venue to share best practices.
The internet widens the scope of what's possible for sharing information. However, it can be challenging to skim through the masses and determine what will work in your own classroom. Online resources like Pinterest or YouTube give great visual representation of classroom activities while Facebook allows groups of teachers to connect from all over the world. There are also sites that allow educators to buy inexpensive lesson plans or worksheets, but how do you know if these will work in your classroom?
What is STEM Universe?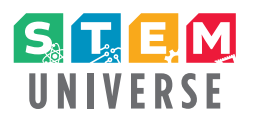 Enter STEM Universe – a website where educators come together to share ideas and build community. This new site allows members to watch videos of classroom activities in action, download resources like worksheets and lessons plans, and build a community through discussion groups.
The beauty of the site is that it serves as a one-stop shop for all ideas. It also brings together the benefits of multiple sites like Pinterest, Facebook, and YouTube. And did I mention, it is completely FREE? This means you can download unlimited resources to try in your own classroom with no risk. Plus, the resources are coming directly from the source—real teachers using real ideas in real classrooms!
If I learned anything in my four years of teaching teachers, it's this: teachers know better than anyone else what succeeds and what fails in the classroom. They know how to be thrifty with what they've got and know how to make the most of new opportunities. They try things, iterate them, and make them perfect for their classroom. Who is the best person to talk to if you're a teacher? Another teacher!
STEM Universe is a site that applauds teachers for all the amazing things they do every day. It gives them a place to show off the incredible ideas they're implementing in their classrooms. This resource forum also allows them to find new ideas to shake up their lessons. It allows them to follow teachers who teach the same grade levels and disciplines as they do. This, in turn, builds a community throughout the world. If you'd like to check out the free resources that STEM Universe has to offer, visit stemuniverse.com today!