The 2020-2021 academic school year is unlike any other year we've encountered. If they haven't already, states and districts are deciding the best way to send students back to school. There are typically three methods being considered – in school, distance learning, or a hybrid model of the two. If your school is going back to the physical classroom in any capacity, you know things are going to be different. You're spacing out students to adhere to social distancing, you're likely wearing a mask, and you may be responsible for the cleaning – as if you're not busy enough teaching!
I've spoken to several STEM teachers and their concerns are clear – how do we do STEM best practices in a COVID-world? While STEM should be hands-on, this year's classroom is going to be extremely hands-off. But there are certain equipment available and best practices to follow that allow STEM to still be engaging, but also, safe for all.
Display the Rules
This school year comes with a whole set of rules for teachers and students alike. It's not unusual on the first day of school to establish ground rules. Be sure to include safety measures and cleaning expectations in this year's rules. In the STEM classroom or makerspace, students should expect to socially distance, use their own supplies when possible, wear a mask, and be encouraged to bring their STEM learnings outside (outdoor geometry scavenger hunt anyone?).
Not only should you address the rules, but you should have them on display so everyone is on the same page. This inexpensive makerspace poster displays 10 best practices for a safe and clean makerspace.
Provide Individual Supplies
The reality of the situation is that we need to reduce sharing supplies and tools in the STEM classroom. It's counterintuitive of every STEM practice we know, but students can still engage in hands-on STEM at the individual level. They can swap ideas from six feet apart and then work on projects and assignments individually. To do this, make sure you have individual supplies and tools that you can label with students' names.
In math, you can make sure every student gets their own geoboard. For technology, you may want to invest in a class set of Ozobots. In a makerspace, you may want to invest in kits with lots of raw materials that you can split up into smaller packs for individual building projects like this CreateKit. And from a safety standpoint, this safety glasses holder will keep everyone's glasses separate and organized.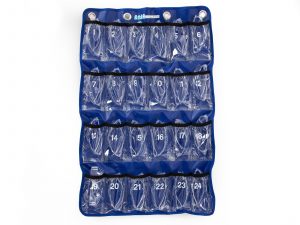 Mask Up
The CDC has called on all Americans to wear masks to reduce the spread of COVID-19. Many states have state-wide mask mandates and that will translate into school policy too. This isn't a new concept in STEM fields, with many scientists and engineers working on projects that require PPE well before we knew what a coronavirus was. This provides an opportunity to work and look like real STEM professionals!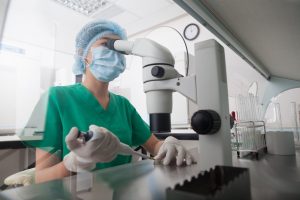 Put students in the role of a biologist, doctor, chemist, or engineer by encouraging the use of masks. Additionally, students can don lab coats, gloves, and safety glasses when appropriate in your STEM space. Use masks as an opportunity to provide a science lesson on reducing the spread of disease. There's some great Bill Nye content on masks that students can watch in the classroom or at home!
Clean Your Technology
This one is probably the most challenging. How do we clean all the things students touch – especially technology – between classes? Some schools are giving teachers more time between classes while others may only have a couple of minutes. Luckily, you can effectively clean your tech, even with limited time.
Most robotics platforms can be cleaned with a sanitizer wipe as long as you avoid the charging ports and batteries. Just make sure to turn the robots off before cleaning. Encourage students to turn off the robots and set them in an identified place before they leave your space so that you can easily gather all bots for cleaning (another item to add to your new class rules). Check out this How to Clean Your Robot guide here.
If you're able to, invest in a UV Tech Tub. This storage device uses UV light bulbs to disinfect your technology in under a minute! Just place tech like keyboards, mice, tablets, laptops, or robots into the chamber, shut the door, and let the tub do the work for you!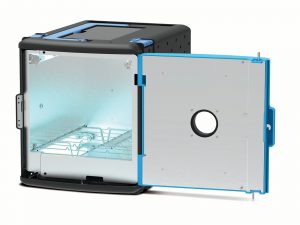 Do you have more tips on integrating PPE or sanitation practices into the STEM classroom? Share your ideas for others in the comments below!