When the COVID-19 struck, teachers like Lisa Moe, a fourth-grade teacher in California, barely had enough time to pack their things. "We were notified that our school was shutting down 10 minutes before school let out on March 13th," Lisa writes. "Teachers were asked to come in the following week to build our school websites and create lesson plans through the end of the school year."
Just as there was uncertainty in March, many unknowns remain as we step into the 2020-2021 school year. Coming off a nearly nationwide school closure, teachers and students are eager to return to normalcy in education, but what is normal in the age of a pandemic? To get a sense for how different schools are preparing for back to school, I interviewed four teachers on their current policies and expectations for the upcoming school year. Within their responses, there are still things that are unknown, but one thing is clear: amazing teachers like you are eager to teach your students and keep them safe!
How did your school or district respond in the wake of COVID-19?
"My school district [is] starting remote learning in March to keep our students safe. We sent home school devices to our students and teachers delivered instruction through online platforms and also met occasionally with students through video conferencing apps." – Scott, K-12 Technology Integrationist in South Dakota
"We took two weeks off prior to spring break, then one week for spring break, and started distance learning without any real expectations." – Tracy, HS Special Education Teacher in California
What is the guidance from your school or district on returning to the classroom for the next academic year?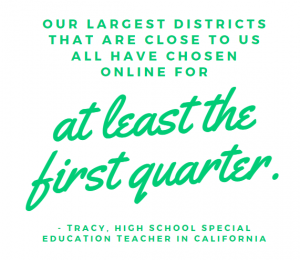 "My district is looking at a hybrid model with students in cohorts that will report on different days. In between, we will also be providing online instruction for the cohorts that are at home. We will have about 15-17 students per cohort and are asked to keep social distance, wear masks, and students will not be allowed to eat in the cafeteria." – Lisa, 4th Grade Teacher in California
"Michigan is still waiting for final decisions. This waiting game is assuring that all angles of safety measures are in place as opposed to 'We want the schools to open.' Our administration team has provided updates on Governor Whitmer's announcements and given timelines for us to learn about finalized plans. It truly rests in the governor's hands at this time." – Johnna, 6th Grade Science Teacher in Michigan
"We held a board meeting two days ago and no decision has been made about how to attend in August. We were surveyed (as parents) about two days face to face with three days online, or four days face to face and then six days online. Our largest districts that are close to us all have chosen online for at least the first quarter. We have not made a decision yet." – Tracy, HS Special Education Teacher in California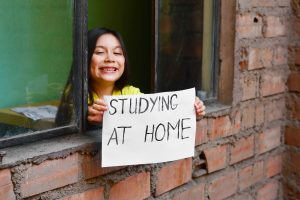 Do you feel like your return-to-classroom policies align with the expectations from the community?
"It is a very mixed reaction. Many families are opting for online learning, while others are eager to get kids back [into] the classroom. The biggest dilemma is the hybrid options for working parents, specifically teachers that are parents. They are very unsettled with who will be at home helping their [own] children with their online learning, while simultaneously teaching their students within the classroom." – Lisa, 4th Grade Teacher in California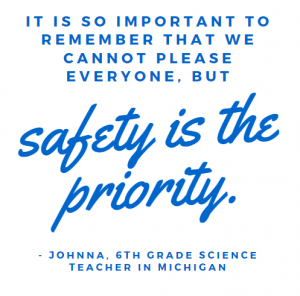 "Our community has mixed views. Many feel the use of masks is not important. They are crying out on social media that if their child needs to wear a mask, they won't be sending their children back to the classroom. Parents that want their children in school are very concerned about lack of daycare when they have jobs and the students have no one to watch them during the normal school hours. Teachers are feeling like the stage of gratitude that was first expressed when schools closed and we were able to roll out immediate instruction has now turned to lack of understanding of our needs and our role that of a caretaker back in an unsafe environment. It is so important to remember that we cannot please everyone, but that safety is the priority." – Johnna, 6th Grade Science Teacher in Michigan
"I feel that most of our community wants back to school five days a week." – Tracy, HS Special Education Teacher in California
When you ultimately return to the classroom, how do you plan on facilitating hands-on activities commonly found in STEM spaces, science labs, makerspaces, and the like?
"When it comes to STEM, science, [and] makerspaces, it is about individual creation and phenomena. With working in elementary, it [will be] an opportunity to truly allow creative spaces through social distancing but continue to maintain collaboration by working together for the safest ways of learning." – Lisa, 4th Grade Teacher in California
"It will be difficult. Many of the activities we have students complete in STEM classes have collaboration opportunities. It is important to keep students separated enough to ensure their safety. Also, cleaning the materials students use on a daily basis is important to keep them safe." – Scott, K-12 Technology Integrationist in South Dakota
"Creativity will be key. It is so important to continue with hands-on learning. Teaching middle school is a little easier since the students can "see" as others are doing tasks. The plan would be to have cleansing between each person as they make contact with tools for learning. Another plan would be small sets per student and sanitizing for use the next day by other students with a workshop rotation plan in place to ensure cleanliness of manipulatives." – Johnna, 6th Grade Science Teacher in Michigan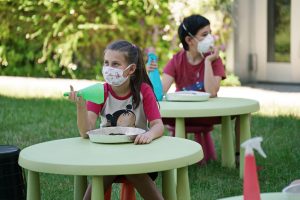 There's still a lot of uncertainty for the next year, but Lisa has a great message for all of us as we enter the unknown:
"Remember that if you feel overwhelmed, your students are feeling it more. Do not lose sight that they have questions, concerns, and thoughts about the world they are living in. Create opportunities to laugh, be silly, have fun, and make memories! Keep your smile and remember why you're teaching!"
Looking for more back-to-school content? We've collected our best articles for returning to the classroom here.
Need PPE & Sanitation Supplies?