It's 2020, but we might as well be living in an Orwell-inspired novel set in the year 3000-and-something. I've never had 20/20 vision, but I don't need it to recognize how acutely unrecognizable the world has become. In fact, as I reflect over the course of the past few months, my heart beats with an uncanny arrhythmia. The muscle may be functioning (e.g., expanding and contracting), but the electrical impulses seem capricious—on account of pandemic-inflicted trauma—a pain I can't simply deny, suppress, or "Shhh" away.
And the unsettling truth is that I will likely bear the brunt of such trepidation until the very day that I am safely reunited with my students in Room 702. The dichotomy of my mental struggle is downright taxing. I've never felt so disenfranchised from the teaching profession. While simultaneously feeling galvanized to be a pillar of support for my stakeholders to lean on. (Try not to fall now, Andrew.)
I didn't sign up for this online model of teaching, but neither did my students, and certainly not their families. Adjustments, pivots, and iterations of once familiar tasks have become the new sense of normal for all of us.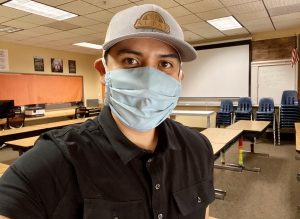 In all seriousness, my local county sits atop the state in per-capita positive COVID-19 cases and is only second in the nation. People I know are testing positive, becoming profoundly ill, and dying, ripping families apart in agony. It sounds traumatic because it is. Yet, here I am trying to maintain a degree of normality with virtual check-ins for my fourth-grade students, even after the school year has officially ended.
Why?
Simply because it is as much my weekly dose of therapy as it is their way to stay connected with their peers while safely practicing social distancing. There are no saviors here—just a teacher who has profound love for what he does and the community he humbly serves. But no matter how hard I try, this current modus operandi will never suffice for me. I miss their presence. The way their contagious laughter infiltrated my willful attempts at being stern while attempting to teach, causing me to crack a smile, forget about my inhibition, and erupt in laughter till my stomach hurt. I miss saying goodbye while seemingly knowing and praying that I'd see them the day after. But most of all, I just really miss them in their entirety.
In this two-part series, I'll highlight what worked, what didn't work, and the improvements I made over the course of distance-learning while teaching amid a pandemic.
Saying Goodbye
I remember the day the pandemic forced my school to shut its doors; the memory will live engrained in infamy forever. As I walked back to my classroom from lunch, I received "the" email from my superintendent. It sounded something to the tune of, ". . . We are shutting down school for the next month due to COVID-19. Before the day ends, please let your students know that they will not return tomorrow." As I internalized the message and synthesized the hard-to-swallow information in the most appropriate student-friendly way possible, I could see the raw and unbridled fear in my students' faces. Even as I tried to downplay the gravity of the situation, the abrupt closure cemented the severity of how dire the situation was creating a true sense of panic for all of us.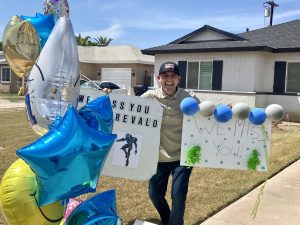 Even though I shared the sentiment with my students, I never once expressed my fear before them. A false smile masked my own insecurities, nerves, and overwhelming anxiety. A former mentor once shared this basic tenet with me: Keep your emotions in check in front of your students. They have their own set of issues to deal with, things you're not privy to. The last thing they need is the weight of anyone else's burden, especially from a figure who is supposed to keep them protected and safe. So, I set my emotions at bay for the time-being, said my goodbyes, and gave as many hugs as I could because I knew deep down this was the last time I'd be with my students.
The Hard Part: Transitioning into the Unknown
As much as I hate to admit it, I can unequivocally acknowledge that I initially let down my stakeholders. Although they'd never admit such a thing, in retrospect, I can accept full responsibility for not adjusting fast enough for them to feel at ease within the first few days of my school's closure. The fear of getting "it" wrong while trying to discern best practices for synchronous/asynchronous learning in the elementary level caused me to question every single decision to a fault.
Ironically, I couldn't get things wrong because I couldn't get things started. As I sifted through infinite questions, scenarios, and "what-ifs", my incredible fiancée jumped head-first into the unknown for her own students. She developed an online plan of action the very next day after her school's closure. And by the following day, her students were already working and embracing the new format of learning.
As I watched her bear crawl forward, I awoke from my numbness. No one in the country had a gold-standard for distance learning because no one in the country had experience teaching amid a pandemic. Granted, there were pockets of online models already in place. But those were specific and personalized to serve the communities in which they were established. (i.e., what worked for some, certainly wouldn't be applicable for all). Best practices were completely anecdotal at this point. And once I realized that, I went to work.
. . . Stay tuned for Teaching Amid a Pandemic: Part 2!
Planning for the new school-year? Check out our PPE Products: