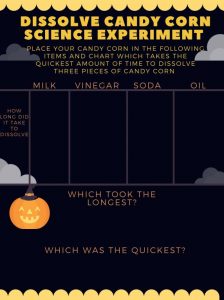 Halloween is arguably some children's' favorite holiday. How can you disagree? It calls for costumes, candy and friends! This year Halloween may look a bit different or may not be allowed at all. Instead of staying in and watching spooky movies, why not have fun and learn along the way with these Halloween STEM activities!
Dissolving Candy Corn Science Experiment
This worksheet is a great activity for post-Halloween candy collection or staying at home with family. Here you place 4 pieces of candy into 4 different substances and document the change over time. You can even do a race to see which substance dissolves the candy the fastest, or test chocolate vs. sour or hard candies – the possibilities are endless!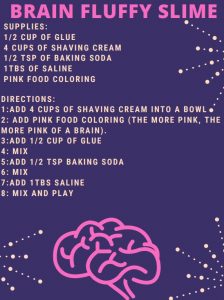 Check out this experiment here >>>
Brain Fluffy Slime
The perfect stay-at-home Halloween activity that you may be able to make with items already in your home!  While taking on this fun activity you can explain how this change of form and combination of ingredients is chemistry at work. You can get creative here with color, consistency, and add-ins.
Check out the slime recipe here >>>
The Great Candy Corn Tower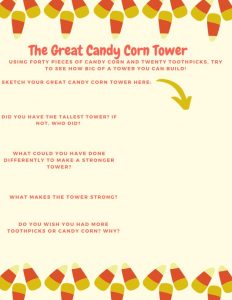 Have competitive kids or students at home?  This is a great multi-family or large family Halloween activity. You also don't need much to have fun with this, just candy corn and toothpicks! Introducing engineering to young students is a great way to show how fun, creative and challenging it can be. This worksheet also allows the student to critically think about what could have made their tower stronger and taller. There is also an opportunity to create parameters like time, tools, and creative liberties.
Get the candy corn tower worksheet >>>
If you have any Halloween activity ideas feel free to pop them on STEM Universe and we will share with other teachers and parents!
Check out these other Halloween experiments:
Halloween Building Block Challenge Cards