It's hard to believe, but the next school year is right around the corner. To ease some of the stress that comes with starting a new school year, make a plan now and follow these four back-to-school tips!
Get a Head Start on Classroom Supplies
An essential part of getting your classroom ready is to make sure you have all of the supplies that you need. It may seem early to start planning, but districts now have access to a significant amount of COVID relief funding. These funds can be used for STEM equipment and curriculum as a response to the learning loss that occurred last school year.
First, take inventory of the supplies that you already have. Determine what items need replenishment or if anything is damaged and needs replacement. Next, make your dream wish list of teaching tools. With the COVID funding, now is a great time to explore those options with your administration! Get inspired with this Ultimate Back to School Checklist.
Test Out New Lesson Plans
Once you have acquired supplies, test out some lessons at home. This is your chance to put yourself in the role of a scientist or engineer! Determine what key learning objectives you want your students to gain from using this equipment and devise a plan for reaching those goals. Also, if you have littles at home, they will make a great test audience before trying lessons with your students!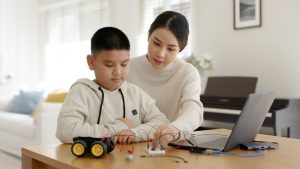 Prepare Classroom Icebreaker Activities
While testing out lessons, make sure to think about icebreaker activities. These are great ways for students to feel comfortable in their new classroom as well as throughout the year when encountering a new STEM topic area. For example, if you plan to teach surface tension in December, why not test out some introductory quick activities like this Soap Boat? Icebreakers aren't just for getting to know each other, but can also break the ice into a new STEM unit.