Apple picking is a fall favorite activity! Students can have fun "picking apples" in the classroom by using this template and programming their Ozobot. The objective is to have the Ozobot travel to each type of apple once before ultimately ending at the basket.
The second page of the PDF is one possible solution. There are many different answers and this one isn't necessarily the best! Challenge your students to find the best route to accomplish the task.
This activity is best for students 3rd-8th grade.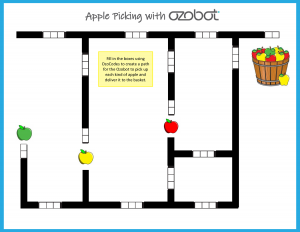 Shop Ozobots here: https://www.stem-supplies.com/technology/robotics-and-coding/ozobot-set