This school year I decided to challenge myself in the library. In the past, the only classes I had were ELA, or library related lessons, and on occasion, Social Studies. But as I evaluated my STEM makerspace items at the end of the year, I realized that I needed to invite math and science classes to the library for more than just research.
I spoke with the principal and department heads and came up with a plan to break the traditional library mold. This year, I have all core subjects (ELA, Math, Science, and Social Studies) rotating into the library for lessons in their respective subject with STEM makerspace and library skills integrated in.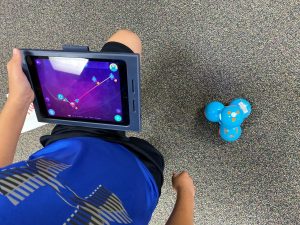 Collaborating with the Math Teachers
For my first math lesson, I wanted to go big and amaze the math teachers. I did that by introducing the myriad of resources the library has to offer. That's how I came up with a Dash coding lesson that integrated math. I collaborated with the math department to brainstorm different math problems that the teachers had recently covered so the topic would be fresh in students' minds. We decided to focus on addition and subtraction of mixed numbers.
I wrote the problems onto cards and placed the cards all over the library. In total, there were about fifty problems for students to solve. The goal was for students to program the Dash robot to find the cards. Then, students would solve the math problems that were written on them.
Learning to Code with Dash
Once the teachers brought their classes to the library, I modeled basic techniques for programming the Dash robot before allowing the students to try it for themselves. I connected an iPad to a TV so everyone could see exactly what I was doing.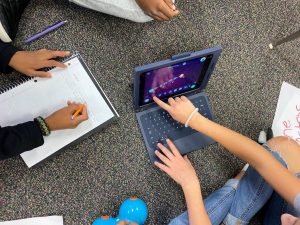 Programming Dash to Find Math Problems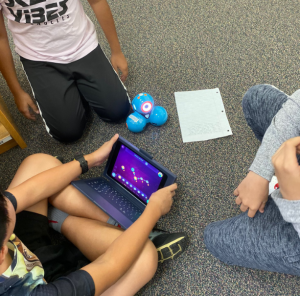 Once the modeling component was complete, I put students in groups of three and gave each group an iPad and a Dash robot. The students coded the Dash to move to each of the math problems scattered around the room. The students were asked to record their answers to the problems on a sheet of paper to ensure they were understanding the skill.
After each class, the students were beyond excited to have a fun, engaging, STEM twist on a math skill that they would normally practice on paper. The teachers loved the lesson as well. The students were so engaged and had a new way to share their knowledge.
Interested in integrating Dash into your classroom or library? Check them out here: