Kinesthetic learning is a hands-on approach to teaching that uses movement as its primary impetus. At STEM Supplies, learning through physical exploration is encouraged. We recognize that STEM learning is not limited to a classroom. We know that STEM and sports can coexist in STEM teaching and are excited to highlight our STEM Sports® offerings in this article.
Who is STEM Sports®?
STEM Sports® is an education company that provides a turnkey supplemental curriculum that uses sports as the real-life application to drive STEM-based, hands-on learning in classrooms, after-school programs, and camps. Each curriculum is aligned with Next Generation Science Standards (NGSS), and/or Common Core State Standards (CCSS), and/or K-12 Physical Education. The curricula presents grade-bands for 3-5 and 6-8 so educators can successfully deliver engaging content and materials. Recently, STEM Sports® added a STEM Multi-Sport curriculum kit for grades K-2. Additionally, STEM Sports® is proud and honored to be accredited by STEM.org. STEM.org is the longest continually operating, privately-held STEM education research and credentialing organization in America.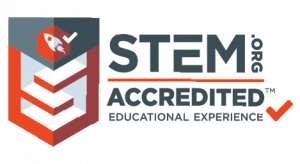 A common concern amongst science and STEM teachers is they may be unfamiliar with the sports; therefore, implementation of the curriculum with their students becomes overwhelming. However, this is not the case! The curriculum does not require training or professional development prior to application, or even deep knowledge of physical education or sports. The step-by-step methodology of the 5E model allows educators to seamlessly guide students with something youngsters are already familiar with – sports!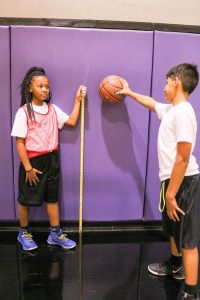 Answering the age-old question, "why do I have to learn this?"
As a STEM education company, we realize our place and the outcomes that STEM learning strives for. Educators should all desire to drive their students to engaging learning opportunities. Along with that comes STEM literacy so that students can see career paths that require STEM skills and better understand why they are learning the vast array of concepts presented to them. For example, geometry can be just math, but when sports become the optics to understanding angles and the properties of space, geometry becomes more tangible and real. Through student participation in the sport on the playing field or court of play and each time, students are given a real-world example of STEM in practice.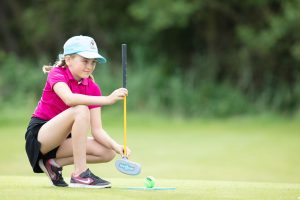 The Curriculum
Each kits' supplemental program provides learning content for a minimum of 16 hours of instruction, with the majority of lessons containing healthy, physical activity. For planning purposes, the allotted time frame for each module is clearly indicated.
Implementation
The curriculum is packaged with the sports equipment and science supplies necessary to execute all of the modules. The convenience of having everything needed guarantees you have a plug-and-play curriculum right at your fingertips.. If you have access to your school or program's sports equipment and thus, do not need the supplied equipment, there is a kit that only includes the teacher manual along with just the science supplies.
Amidst the pandemic and the education systems' shift to remote learning, STEM Sports® has created virtual learning tools so educators can continue implementing the curricula via Zoom, Google Classroom, Microsoft Teams, and other digital platforms. For each module, STEM Sports® supplies include:
Powerpoint Decks for each lesson
Digital Worksheets (with keys)
Pre-and-Post Assessments
As mentioned earlier and highlighted below, STEM Sports® curricula is outlined by the 5E educational model, ensuring a compatible learning environment through either in-person or online learning!
The 5E Educational Model
The 5E Model is an inquiry-based instructional method where students are active participants throughout the learning process. The 5 E's stand for:
Engage
Explore
Explain
Elaborate
Evaluate
At STEM Sports®, the 5E instructional model has become the "6E instructional model". Rather than ending with Evaluate, STEM Sports® believes it is important to instill a purpose and motivation by integrating the sixth E of "Extend". This offers students the opportunity to challenge themselves, and, a window into the next grade level.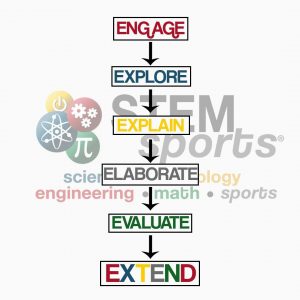 This model is based around the use of active, kinesthetic learning — a focal point of the STEM Sports® curriculum modules. By using sports, students can engage with the curriculum on both a mental and physical level. This teaching model has been known to increase student retention. It also provides a positive learning environment and experience to get young minds interested in science, technology, engineering, and math.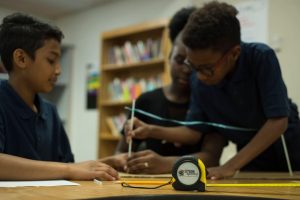 STEM Sports® and STEM Supplies are combining scientific learning and sports to help students develop critical thinking, collaboration, and creative problem-solving skills. These skills can be applied throughout their lives, not only to future occupations and jobs but for real-life, everyday situations. We would be honored to assist your students in focused, tangible learning to enhance their STEM literacy. Play ball!
Currently, STEM Supplies carries a variety of STEM Sports® curricula offerings. You can purchase STEM Basketball, STEM BMX, STEM Football, STEM Golf, STEM Multi-Sport K – 2, STEM Multi-Sport 3-8, STEM Soccer and STEM Volleyball directly from the STEM Supplies website here.