As I write this, I'm looking out my window and seeing snow fall to the ground. The kicker – it's only November. Whether we like it or not, winter is coming (or here!) and we're already getting excited for the holiday season. Students and teachers alike are dreaming of Thanksgiving and holiday celebrations with their friends and families, as well as a winter break to decompress before entering a new decade. To bring the festivities into your classroom, try these four STEAM activities sure to make your classroom merry and bright!
Turkey and Reindeer Bristlebots
Bristlebots are just about my favorite STEAM activity for all ages. To make the bot, students attach a motor to a toothbrush with a battery. The result is a vibrating, spinning bot that will be sure to bring your students joy! There's also a great lesson to be taught about electricity and motors, as the Bristlebot will not vibrate if the circuit between the motor and battery is not closed. To tie this activity into Thanksgiving, have students use the pipe cleaners or paper as turkey feathers. To make a reindeer, create antlers out of pipe cleaners and attach a red nose to the motor. And don't forget the googly eyes!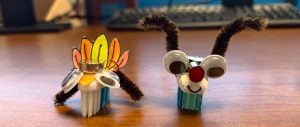 Check out a video of this activity on STEM Universe by clicking here or, download this BristleBot Planning Worksheet to incorporate into your next lesson!
Turkey Hands
We've all made the classic turkey hand by tracing our own hand, cutting it out, and decorating the fingers to look like feathers. This STEAM activity is just like the turkey hand, but with a twist! Start by tracing your hand and cutting it out. Cut the finger digits approximately where your knuckles are located and then tape the hand back together, leaving a space between the digits. Tape a small straw piece to each digit. Using ribbon or twine, string a piece through each straw finger securing the string with a knot or tape at the top of each finger. Last, decorate your hand to look like a turkey. When you pull on the strings, you will move the turkey's feathers! You can find step by step instructions for this activity here.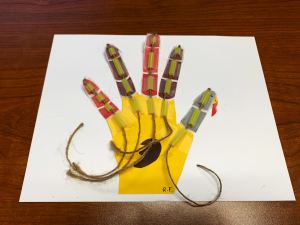 Greeting Cards
Another great circuit activity can be brought into the classroom with holiday greeting cards. Students can make a card for a fellow classmate or family member by connecting circuits onto paper. This paper circuit kit has LEDs of all different colors as well as batteries and conductive tape. The tape allows students to easily connect the LEDs and the batteries onto the flat paper surface. Challenge the students to integrate a switch so they can turn the lights on and off when they need to. This would also be a great activity for Valentine's Day too!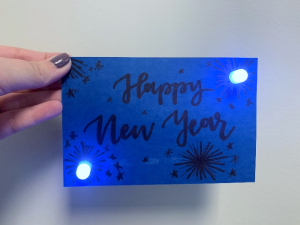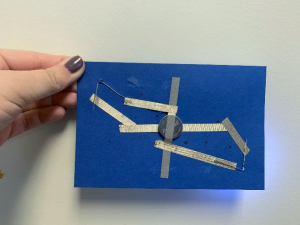 Make a Winter Wonderland
From Strawbees to building bricks and everything in between, there's so many different ways to build. Combine those engineering skills with art by building your own winter wonderland. Have students use building materials to make everything from trees to garland.  Check out how I've used Lux Blox to get festive with gear ratio in this picture below. You can also visit STEM Universe here to see a video of this in action!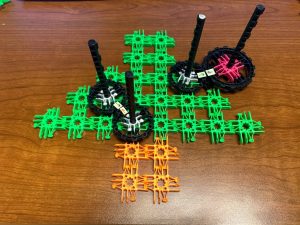 Looking for something a little bit higher tech? While unplugged, cut Christmas lights at multiple spots using a wire cutter. Challenge students to solder the wires back together so that the lights illuminate again. Then use the lights to decorate your classroom. Just make sure to always use lead-free solder and safety glasses!
How are you planning to integrate STEAM into your classroom this holiday season? Let me know in the comment section below!