When I think of green screens and video production I think of the Hollywood magic that produces the likes of Harry Potter soaring over the Quidditch field on his broomstick. As a second-grade teacher with a class full of seven-year-olds, I was nervous about introducing green screen and video production technology, thinking it required rigorous training.
But once I started teaching them how to video and create using green screen, I couldn't believe how easy it was and wondered why I didn't use it with younger students before. Crazy, right?
The second-graders easily learned the technology and loved creating something visually appealing. If a class of 28 second-grade students can do it, then I believe anyone can do it. Green screens and video production allow students to reflect on their learning and display it in a way that reflects their imagination and technology skills.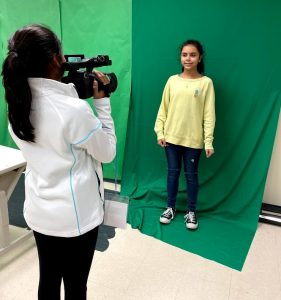 With several kits available that provide you with everything you need, including this one from STEM Supplies, using a green screen is incredibly simple. You will need a green screen, camera, and software to change the green color to whatever background you choose. My two favorite software options are WeVideo and Green Screen by DoInk.
How to Use Green Screens
Hang the green screen. To use the green screen, you will first (of course) need to put up the green screen.
Record the video. You would next need to either record or take a picture (depending on your goal) with the green screen in the background. You could use the camera that the kit provides or your own camera/cell phone.
Edit your video. You will need to edit out the green screen using software like Green Screen by DoInk, or WeVideo or what's provided in your kit. Each software has its own learning curve, but all are very simple.
Create your background. Once you edit out the green screen, you can upload your video into iMovie and create a fantastic movie or documentary! Be sure whatever image that you upload for the background of your green screen is either an image you created or a stock image so you do not break copyright laws.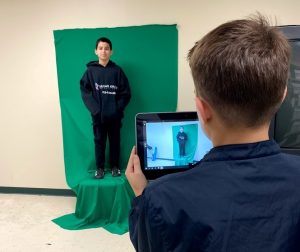 Green Screen Ideas
Create a music video. I know this seems like a lot, but I had second graders write songs for different parts of speech. Using Garageband to create the music, they upload their song to their green screen video. If they can do it, you can too!
Create a documentary
Create a movie
Use for school news
Create trailers for books they are reading
Green Screen Alternatives
If you do not have the budget to purchase a green screen, here are some alternatives:
Paint (be sure to get permission before painting a wall, a lesson learned from experience!)
Paper (This can come up with a "crinkly" look with editing, but if that is all you have that is okay)
Fabric from a craft store (be sure to purchase enough to cover the area you need)
Have you tried using a green screen in your classroom? Upload your videos to STEM Universe!