Boxes are one of those things that you always have a ton of, especially if you are addicted to online shopping like I am. I always recycle my boxes, but now I repurpose them first. I allow students to explore the engineering design process with them!
STEM Supplies graciously shared their boxes and supplies with me to allow our students the freedom to create something of their own design! They sent Octa-Clips connectors along with the boxes to connect multiple pieces of cardboard to each other and have them move as well.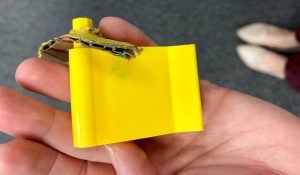 Exploring Different Materials
At the start of this project, I had students just explore the different materials, without jumping in to use them. This allowed them time to explore what each of the different materials does. These items were new to them so I gave them time to look at everything, learn how they work, and determine how they would be used in their projects. Next, I had the students draw and map out exactly what they wanted to build and make. I did not give the students any requirements other than that their final designs had to be able to move and had to be three dimensional. I wanted the students to be as creative as possible, even inventing an item if they wanted or dreaming up a new animal.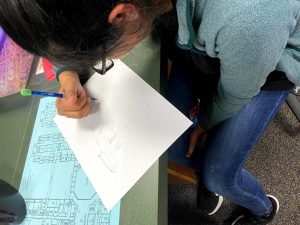 Practicing Safe Engineering
After the students sketched and mapped out what they wanted to create, I had them start building! STEM supplies supplied amazing cardboard safety cutters that cut cardboard very efficiently but also were safe for students to use; there was hardly any chance that the students would cut themselves! If you are hesitant to allow your students to use cardboard knives, I highly suggest these! It took students about two to three days to make their creations. Once the students made their creations, I gave them time to decorate. When they were done, they presented their creations and displayed them where all students could see.
Being Resourceful and Sustainable
For a library that has almost no budget, this was one of the greatest tools. Boxes are free and all over a school and the Octa-Clip box connectors are inexpensive and reusable! Students can keep creating repeatedly with these materials. My students were engaged because they were able to destroy boxes to make something of their own creation. This was a great activity to create future engineers and build yet another component of STEM in our future leaders of tomorrow!
Purchase the box connectors here: