I love everything about makerspaces. What's not to love about all the problem-solving skills, "Ah ha!" moments, displays of teamwork, and real-world applications of STEM ideas in one space? Even still, I do recognize that implementing a makerspace can be intimidating to new and veteran teachers alike. There's a lot to consider in these spaces in terms of pedagogy, equipment, and layout and the process can be daunting.
To make it a little easier, here are three free resources you can use to get started to plan your dream makerspace today!
The Makerspace Toolkit
At this point, you may have completely bought into the idea that your school needs a makerspace. Maybe you've seen one at a conference or envy the lab your colleague has in another district. But, you know creating a makerspace can take time and requires buy-in from your administration. This free makerspace toolkit is a great place to start! It features background research on why makerspaces are important and why active learning is the best approach in STEM.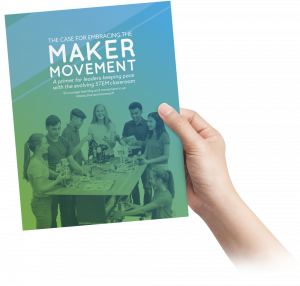 Additionally, this toolkit has an extensive makerspace checklist with all the questions you should be asking yourself, your administration, and even your students before implementing this type of space. The toolkit also features possible layouts of furniture for effective makerspaces. Whether you have a whole room to dedicate or just the corner of a classroom there is a solution. And the best part is that the toolkit is a free PDF that can easily be printed or shared with administrators, teachers, community partners (like PTA/PTO), or parents.
Funding Finder
Makerspaces are an investment. Even with recycled or donated supplies, there is a lot of equipment you may want to include like robotics or 3D printers. There's a lot of ways to get funding for these types of projects, from government sources to your local PTO/PTA, and every avenue should be explored to outfit your makerspace.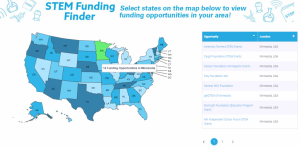 This free funding finder tool has nearly 800 opportunities to secure STEM funding. It's an easy to use map – just select your state(s) and a list of funding opportunities will populate. Just remember when you're writing a grant proposal, to follow key steps – answer all the questions, outline your use, and being clear on what products you are looking to acquire. For more tips on makerspace grant writing, check out "5 Tips for Writing Grants to Fund Your STEM Makerspace" here.
Custom Makerspace Product Recommendations
You might be at the phase in your makerspace planning where you are ready to acquire some equipment. This is a challenging step because you need to justify the investment. You also need to make sure the products are appropriate for the grade levels you teach. You might also be asking yourself, what is the difference between an Ozobot, Cubelets robots, and a Bristlebot anyway?
STEM Supplies has created a custom makerspace form that you can fill out to get product recommendations unique to your space. You can outline your goals and describe your dream setting to receive a custom list of recommendations. This service is free to use and there is no obligation to purchase. It is a great way to learn about different products from makerspace and STEM lab experts.

Remember, building a makerspace won't happen in a day. It's worth taking your time and creating a useful space that will be enjoyed by students for years to come. Use these resources to guide your process, make thoughtful decisions, and ultimately, build your dream space.