There are so many places that teachers can gather information. Facebook, Twitter, and Instagram have made professional learning networks so accessible that teachers can connect in real-time from all over the world. I often see posts in these groups like "I'm a new teacher and don't know where to start – please help!" or "I have a certain budget to spend on STEM but am not sure what I need."
Previously, I put together a list of my elementary recommendations. Many of these products (like Ozobots and Keva planks) could easily be integrated at the secondary level as well. Here is a list of my favorite STEM products that are perfect for any secondary STEM lab or makerspace!
1. Drones
For the older students who were exposed to programming and basic engineering in elementary school, drones are a great next step. Through building drones, students expand on their circuit and engineering lessons from previous years. With programmable drones, they also grow in computer science skills. Once built, drones serve as a perfect lesson for flight and physics, and exploring principles like drag, thrust, and propulsion.
I like the CoDrone products because students build, program, and fly the drones. It only takes ten minutes to build these, so students can focus longer on programming and flying. As far as drones go, these are also more affordable than other class sets.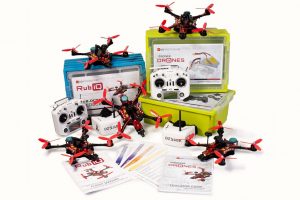 If you have more funding and are looking for a more challenging drone platform, I would recommend the Discover Drones which include flight simulators and more advanced technology like GPS.
2. 3D Printing
Every high-tech makerspace or STEM lab should have a 3D printer. 3D printing really is the future of materials engineering, and it's a skill worth teaching in middle and high school. They allow students to exercise creativity while learning about materials, structures, and the engineering design process.
The Adventurer 3 3D Printer is compact to fit in a classroom, but also allows students to create within a decent size build volume. It's also compatible with a free cloud storage, allowing you to save designs for later.
Looking for other 3D printers or storage options? Check out more items here!
3. Robotics and Programming
It feels like there are just about a million different robotics platforms that you could use. When I go to STEM conferences, I'm overwhelmed by all the new high-tech robots available! For me, I always like Ozobots and Cubelets because I think they can be scaled up and down across K-12 easily. Many people are familiar with these, so here are some new options that are great for the middle or high school classroom too!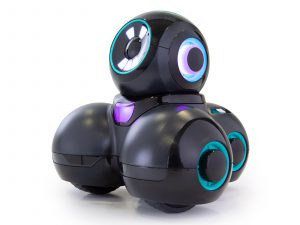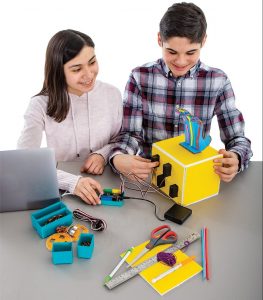 Wonder Workshop Cue – You may already know Dash (I like to think of this as Cue's little brother). Cue is the next-level, middle-school platform from Wonder Workshop. I love how engaging Cue is, how easy the apps are to use, and how far the Bluetooth range is.
Hummingbird Bits – These bits contain many sensors that can be configured together and programmed to achieve many different outcomes. I love how you can integrate these across many topic areas like biomedical engineering, math, physics, and more! These robots are so versatile and will keep students learning and building for hours on end. BirdBrain Technologies is also a teacher-friendly company that offers continued support with free resources!
Mini Darwin – Want to build a robot from scratch? Check. Program that robot to walk or do pushups? Check. Add your own 3D printed parts to his body? Check! This is the most budget-friendly humanoid robot you can find. From my own experience, it will take multiple class sessions to build Darwin and then the lessons on programming are endless!
Don't be intimated by these high-tech products! Students pick them up right away and they will add excitement in your classroom, while keeping students engaged. They also are representative of real-world applications in STEM, helping to prepare students for a STEM workforce.
If you're looking for more funding to expand technology in your STEM space, check out our free funding finder here!