In March 2020, nearly every school shut its doors and embraced virtual learning. This was to keep students and educators safe during the COVID-19 pandemic. Districts hoped virtual and hybrid learning models would be temporary circumstances. However, many teachers shut their classroom doors for 18 months. This back-to-school season is different than any previous, with the majority of schools opening to face-to-face instruction for the first time in over a year. Here's a look at the current status of this historic back-to-school season:
Schools Return to In-Person Instruction
With access to vaccines and over a year and a half of experience, many schools are making the decision to return to face-to-face instruction in the 2021-2022 school year. We recently asked 174 teachers "are you teaching in-person, virtual, or hybrid this school year?" and 96% of teachers said they were returning in-person this year, with only 2% returning to a distance or hybrid teaching model. The small remainder was not yet sure what their teaching model would be.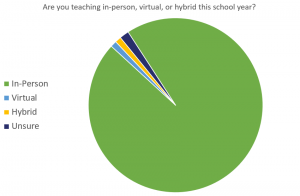 Of those returning to school, many shared similar sentiments of relief and excitement over this school year. As one teacher stated, "I am so excited to get started! It is going to be such an amazing year. Getting our STEM clubs back up and running is what I'm looking forward to the most."
Federal Relief Still Available
In March 2020, the Coronavirus Aid Relief and Economic Security Act (CARES) was passed and included $2.2 trillion in relief for many entities impacted by COVID-19. Included in this act were billions of dollars for educational institutions to use for supplemental learning, PPE, professional development, purchasing educational equipment, and more. Many of these funds have already been distributed to school districts and need to be spent before September 2022.
Following CDC Guidance
There is no federal mask mandate, however, the CDC recommends "universal indoor masking by all students (age 2 and older), staff, teachers, and visitors to K-12 schools, regardless of vaccination status." Additionally, it is also recommended that "schools maintain at least 3 feet of physical distance between students within classrooms to reduce transmission risk." Recommendations and guidance change based on the current status of COVID-19, and it's important that you refer to your district's policies often regarding masking, social distancing, and quarantining to keep students and educators safe. Additionally, the U.S. Department of Education has released a "Return to School Roadmap" to support schools in preparing for the 2021-2022 school year.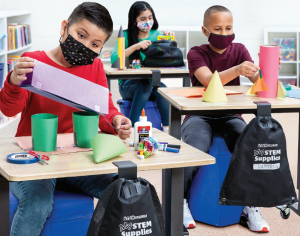 Virtual Again?
Like last year, there is always a chance that schools may be forced to do virtual learning again. However, schools are more prepared than ever to tackle this problem. After a year or more of virtual or hybrid teaching, all schools have a digital learning system like Google for Education or Schoology that they can easily integrate again. Many schools made investments in one-to-one devices, individual supplies for students, or cameras that can record lessons for any students at home. While we hope to stay in person, educators are resilient and prepared for whatever this school year throws at them!
Looking for more back-to-school information? Check out these resources: