I've been a teacher for almost four decades and worked in school classrooms ranging from university to high school to middle school to elementary school and preschool. I've taught in multiple states including California, Texas, and Washington, and have been called on as a curriculum and instruction expert across the country. Even with that experience, I endeavored to never stop learning, and in the past few years, I've added a new perspective through which to provide my instruction: innovation and entrepreneurship. I have found this is a unique lens through which students of all backgrounds, all abilities, and all lived experiences can connect. While introducing the idea of innovation and entrepreneurship can be implemented with tools already in your classroom, CreositySpace's Book of Ideas and Makerspace Challenge Sets provide a variety of innovation prompts and lessons aligned to grade-level ELA, science, and social studies standards, that can be included in your instruction as appropriate.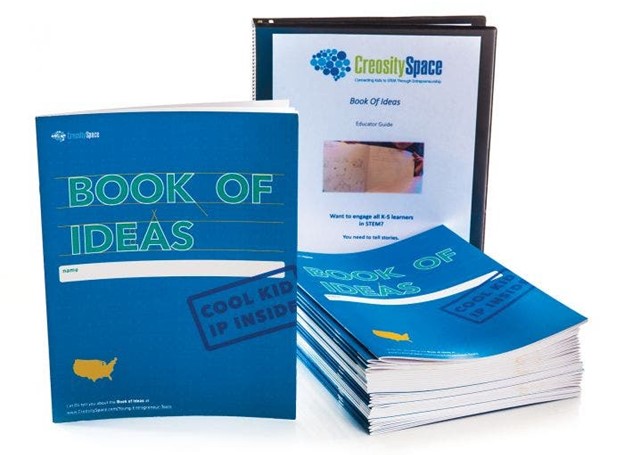 Be Culturally Relevant
Open-ended innovation prompts provide a way for students to express their idea and thinking in a way that's culturally relevant to them. While this can be done with any innovation prompt, the grade-level aligned Book of Ideas from CreositySpace are full of innovation prompts that connect to science and social studies standards.
Provide Differentiation
Innovation prompts provide differentiation within a classroom. Open-ended prompts let students choose the breadth, depth, and complexity of their response and provide opportunities for voice and choice. The Book of Ideas provides easy-to-implement differentiation in the following ways:
Scaffolding for those who struggle with writing
Advanced writing suggestions for high-capacity students and classes
Multiple prompt choices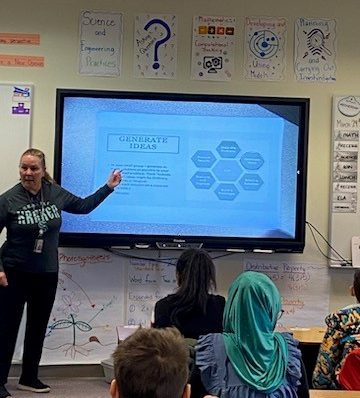 Explore Innovation and Entrepreneurship
Entrepreneurship naturally encourages students to think beyond the invention stage and into the application stage. Innovation and entrepreneurship offer an alternative and creative way to encourage high-ability students in the classroom to think more deeply while providing a platform for their classmates to genuinely engage in learning according to their personal capabilities. The Book of Ideas includes multiple prompts to meet the personal interest, needs, and strengths of each student in the classroom, providing a natural path for differentiation. Concepts around budgets, stakeholders, intellectual property, and manufacturing provide a variety of real-world opportunities to empower students to take their ideas from concept to innovation. The CreositySpace Makerspace Challenge Sets provide multiple levels of additional lessons that can be included in classroom instruction as time permits.
Include All Learners
Innovation and entrepreneurship create a space for all learners. STEM entrepreneurship is the act of turning a STEM or science idea into a product or application for the community and world. This action requires more than just scientists and engineers. Using entrepreneurship as the platform to teach science shows all students that there is a place and need for them in the STEM ecosystem.​ The CreositySpace Book of Ideas and Makerspace Challenge Sets highlight a number of STEM entrepreneurs and student inventors from all backgrounds, sharing their inventions, personal stories, and words of wisdom to inspire and connect with students coming from all different lived experiences.  You Can't Be What You Can't See, famously attributed to Marian Wright Edelman, highlights the importance of representation in a child's development of self and what they believe is possible for their future.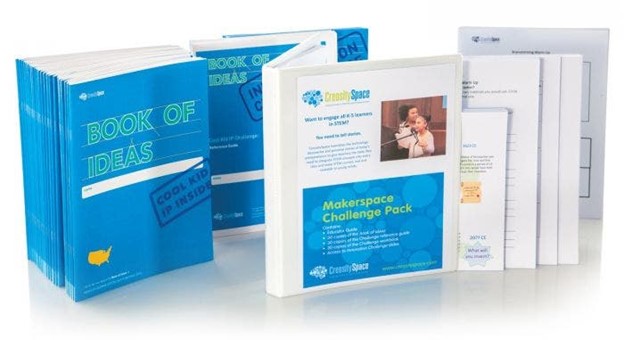 The CreositySpace Book of Ideas and Makerspace Challenge Sets allow students to imagine the possibilities. To learn more about these real-world makerspace solutions, click here!