Like most educators that I know, I was incredibly shocked and heartbroken when school was cancelled. While it was the best way to protect our students, staff, and fellow educators from COVID-19, it was hard hearing the announcement that I won't be able to see my students again. Additionally, it was challenging to realize that it might be a while until schooling looks like schooling again. And then it was even more difficult to realize that distance learning will be our future in some form. Through all these challenges, I have found that the best way to prepare myself was to become a student again and to apply that to be a distance learning teacher.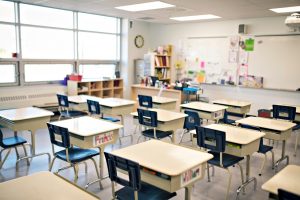 I gave myself these five prep items to complete this summer. These items will help me grow not only as a distance learning teacher but as a teacher in general. After all, teaching is all about learning, growing, and adapting as you go.
Setting Up an Online Classroom
My district has an online learning system that has been in place for the past four years. The system is much like the online Blackboard summer classes I took during college. Teachers can post assignments, quizzes, tests, or discussions, and students are able to complete them from home. Prior to the pandemic, I had my classes set up and the site was active when schools were shut down. I was fortunate to have this in place because students knew where to find information and I was able to connect with them in this format. Several teachers on my campus did not have a classroom setup and it was a difficult transition. If you don't have an online classroom set up, I highly recommend doing so. This summer is a great time to get ready for whatever the future holds. You can even start lesson planning for the upcoming school year and have assignments ready to go when students return, taking some stress off. Reach out to your district and see what online learning system they have in place.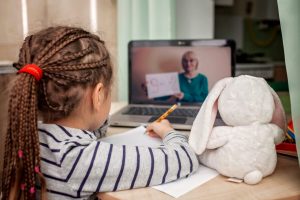 Finding Activities
The biggest thing that has helped me prepare with my lessons for the upcoming school year are all the items available on STEM Universe, an online repository of STEM activities, lesson plans, worksheets, and videos uploaded for teachers, by teachers. There are so many resources available for students to use at home, which is my focus right now. All the items on the STEM Universe are free and if you ever find something that you can use, you can easily download it and upload it to your online classroom. So many amazing educators are always uploading to the STEM Universe so be sure to check it out.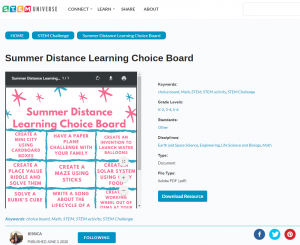 Virtual Professional Development
eLearnings professional developments are all over the internet right now for teachers. I pride myself in being digitally savvy and have never shied away from integrating technology into my lessons, but we all have room to grow. With how fast technology is always changing, I love staying up to date with the current educational technology trends, especially with how online schooling in our future. I often check out edWeb.net which has free eLearning professional developments, most of which focus on online learning.
Networking
Reach out to fellow educators and build your PLL network on Instagram and Twitter. Educators are notorious for being professionals that share their knowledge. Follow educators who focus on STEM and eLearning (or whatever your content field is) to see what they are doing in their own classrooms. You can use these ideas to adapt to your own classrooms. You can also use your PLL to find fellow educators to lean on during this challenging time.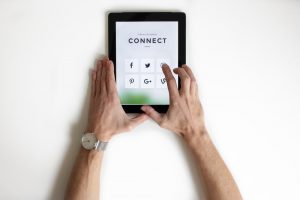 Mental Health Checks
I am focusing on my own mental health and coming up with ways to help students with their mental health moving forward. This is an incredibly stressful time for everyone, not just adults. Students are feeling stress and fear just like the rest of us. Mental health is going to be a big focus for me in the 2020-2021 school year and I will be focusing as much time as possible on making sure that students (and myself) are giving themselves grace and time to breathe and destress. The best thing that we can do moving forward is to remember to give grace. Give grace to our students, ourselves, our coworkers, and our administrators—we are all doing our best in this trying time and we are all learning.