Podcasting is being utilized more and more as a tool by teachers. It allows students to create a product of their own. Podcasting allows students to be creative and explore a different talent they may not know they have. It also benefits students by having them work on and grow their communication and grammar skills through discussion and debate. Students will have to map out their ideas which grows their critical thinking skills. A classroom podcast also allows students to be creative. It will grow student engagement because they will be able to create something of their own. Overall, podcasting allows your students to be better learners.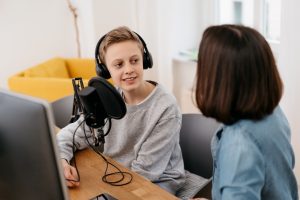 I have helped many different teachers from various subject areas incorporate podcasting into their instruction. You can start using this tool from upper elementary to high school and the best part is, it doesn't matter if you are virtual or in-person, anyone can do it from anywhere! A few different ways that my teachers have used podcasting are to discuss books, historical characters, or events and even to explain different science topics, such as metamorphosis, or to present a research project.
For all my teachers, I have them follow the same process which allows students time to practice beforehand and allows procedures to be put into place to create the best chance for students to be successful.
Here is my process on how to podcast in the classroom that I share with my teachers:
Assign Roles
There can be several roles for podcasting including 1-3 speakers, a writer, editor, and director. If some students do not feel comfortable speaking or recording their voice, allow them to be an editor or director. Before splitting students into groups, allow them to pick their top two roles and then use that information when grouping them.
Group Students & Give An Assignment
Once you group students based on roles, have students determine which topic they want to explore based on the constraints of the assignment. I always have students follow a podcasting template that allows them to record the things they hope to discuss for their projects and gives them a chance to map out their thoughts.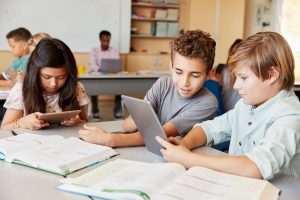 Check Privacy Codes & Discuss Rules
Every district has different policies and procedures in place for students regarding privacy. Check with each of your students and reach out to parents to make sure they are comfortable with their child's work being published. If parents are not comfortable with it being published, group those students together so the work is not published.
Determine Available Technology
Explore the different tools to start a classroom podcast depending on the technology that is available for your students at your school. You are available to use iPads, laptops, or Chromebooks for recording or even a phone. If your budget allows it, invest in microphones or headsets for a more professional sound. Ultimately, pick what works best for your students and your campus.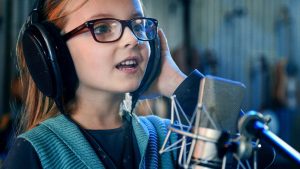 Explore Different Platforms & Apps
There are a variety of different platforms and voice recording apps that you can use to create a podcast. My personal favorite are Voice Recorder, Garage Band, Audacity, or Anchor App.
Practice Makes Perfect
Practice in class prior to recording to give students a chance to get familiar with the podcasting process and know what to expect when the actual recording starts.
Record & Publish!
Audacity and Anchor App are great platforms to use to upload the podcast to different platforms. If you have a group of students that do not have their privacy codes clear to publish a podcast on the internet or if your administration does not support the online aspect, you can have the students attach the voice recording to a Google Slide or just upload it as a recording to you, the teacher.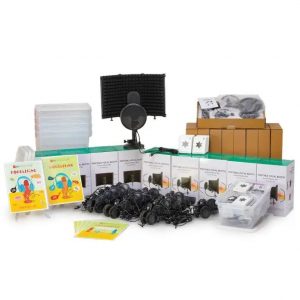 Looking for an all-inclusive pack for an amazing podcasting experience? Shop the Discover Podcasting Lab Kit here!